Travel safety experience
Travel preparation starts with an inventory of personal and organisational needs and with the acquisition of basic knowledge through an interactive online preboarding program at our online campus. This information is analysed by the experts of the training team. You are now ready to begin the practical training!
Our experienced guides will take you along all the main areas of concern related to travel in high-risk countries. You will learn to spot the danger in everyday situations, but also learn to recognize situations where you may be tempted to react in an unreflective, instinctual manner (thus increasing the risk to your person). We work with innovative teaching tools and methods, making the process of developing the required skills fun, interesting and effective.
Our course is designed in a such a way that the subject matter of the course stays top of mind and your learned skills surface when you need them in practice. By documenting your progress in a personal travel log during the trip, you develop your own roadmap towards expertise so you don't lose track of mastered skills. At the end of the journey, you will have a set of concrete tools and skills at hand. With these skills, you will be able to proactively, adequately and confidently maintain as much control over your situation as possible in threatening situations worldwide, and reduce the risks for you and your team.
The menu consists of the following themes:
- Low and medium risk area
- Medium and high risk area
- High and extreme risk area
- Custom made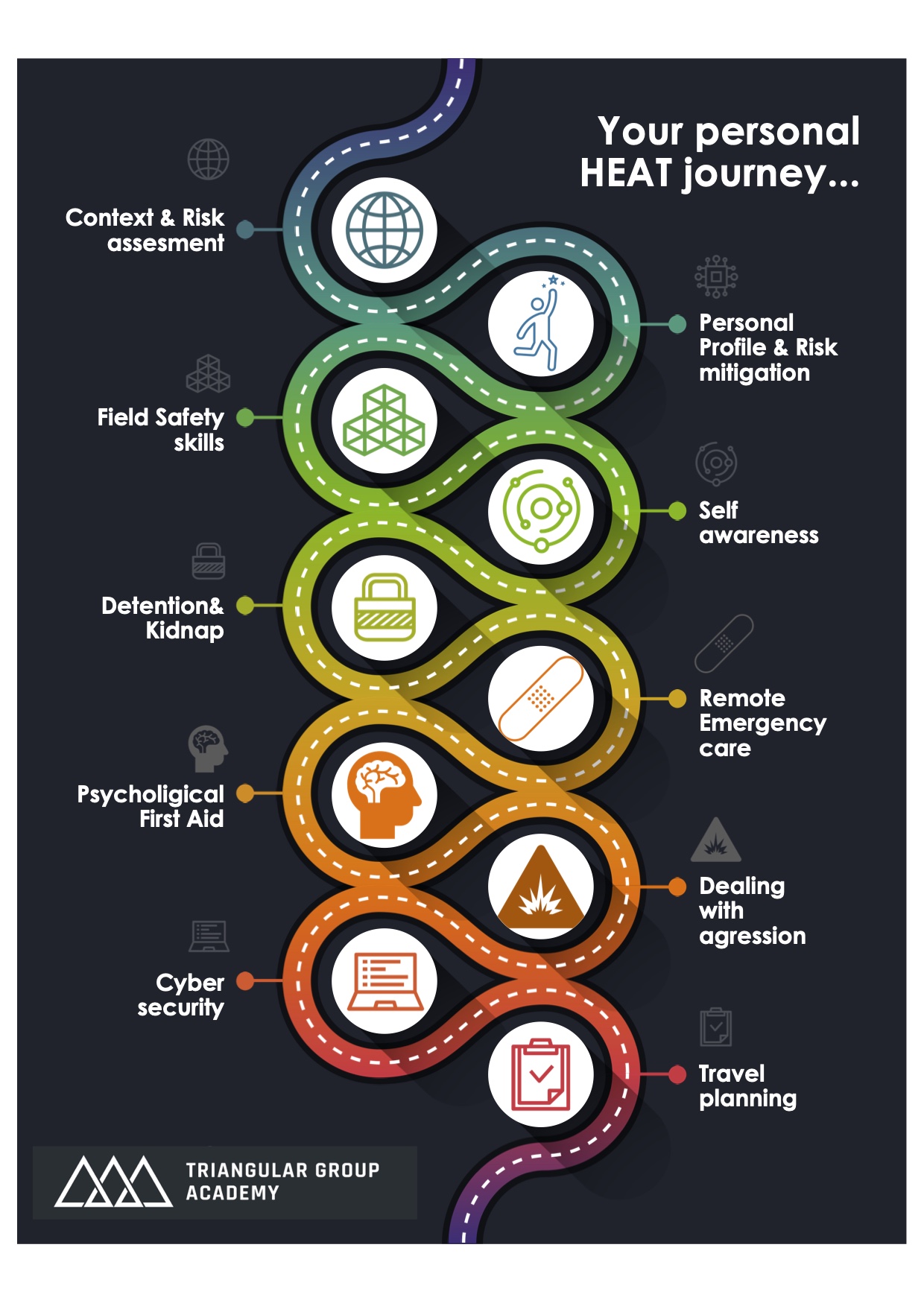 (De-escalating) Communication skills
Dealing with unexpected and unforeseen circumstances
Protocol-based medical life-saving treatment (TECC)
Wilderness medicine
Basic life support & AED
Stressmanagement
Basic negotiation tactics
Positively influencing challenging behaviour (aggression management)
Simulations from the field
Assessing and dealing with safety risks
Standardising safety procedures in the field
Dealing with gender-specific risks
The personal risk profile
Analysing security risks in your environment
Use different means of communication in remote areas (e.g. satellite phone/radio)
Communication strategies
Kidnapping, hostage-taking and extortion
On the road safety (a.o. checkpoints, ambushes, carjacking, convoy, roadblocks).
Introduction to firearms, UXOs, IEDs
Cybersecurity
Basic navigation methods (map, compass and GPS)
Travelling in convoy
Surviving in primitive conditions
Hibernation/ relocation and evacuation